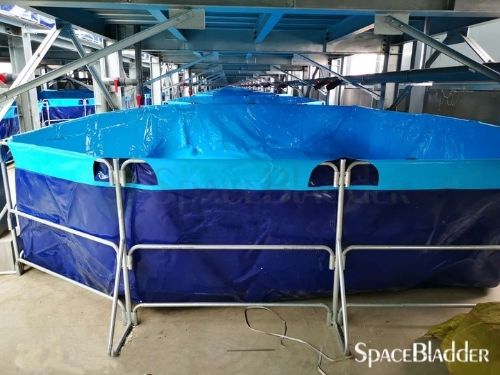 Rectangular Folding Tanks for Aquaculture System Shrimp Tanks
Rectangular Folding Tanks for Aquaculture System Shrimp Tanks Description
Shrimp has always been in short supply in various countries, so industrialized shrimp farming has broad prospects. Our shrimp tanks are easy to operate, easy to manage, safe and non-toxic, and can help customers carry out scientific farming. At the same time, this tank is above ground, and it can be disassembled, so that the shrimp farming tanks will not be affected by the soil at all, nor will it destroy the land, and it can be recycled. It is suitable for the cultivation of white shrimp, base shrimp, freshwater shrimp, and seawater shrimp. Size can be customized.
Product type
Aquaculture Systems Rectangular Folding Tanks
Structure
High tear strength PVC liner + support tube + inlet & outlet fitting
PVC Liner
Environmentally friendly polyvinyl fabric.

– Doesn't include any harmful substance, 100% safe for aquanclture system.

– Excellent tear resistance, anti – mold, anti – UV,anti – corrosion,cold resistance and heat resistance properties

– Long lifespan

Support tube
It is including horizontal tube and vertical tube. Double side zinc coating, compared with ordinary pipes, corrosion resistance, tolerance, and service life are better.
Inlet & outlet
In order to meet customer's requirements on usage, here has different type and size of the inlet & outlet valve for choice.
Repair kit
– spare support tube;

– spare repair material;

– rapid plugging clamp;

– Rapid plugging stopper;

Scope of application
All kinds of aquaculture (Indoor/outdoor, freshwater/seawater)
Normal capacity
1m3 – 500m3
The fabric gram weight
900g/m2 – 1800g/m2 (0.7mm – 1.5mm)
Technology
High frequency welding / Hot wind welding/Double welding
Delivery time
7-20 working days
MOQ
5 units (first order can test 1 unit first)
Payment
TT, Western Union
Supply ability
2000 packages/month
Serivce
All rectangular shrimp tanks are custom-tailored, depending on the site, terrain, size, etc. of the project to design the length, height, width, and drainage hole of the tank. So we don't have a detailed price list. Please feel free to contact us if you have any needs or questions.