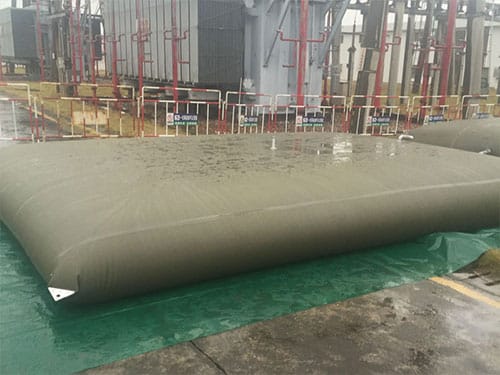 Conservator and Compensatory Transformer Oil Fuel Bladders for Transformer Services
Transformer Oil Fuel Bladders Description
Conservator and Compensatory Transformer Oil Fuel Bladders for Transformer Services made with various color, pillow shape is collapsible and portable, fast and easy deployment. The conservator and compensatory transformer oil fuel bladders are movable and lightable.  Pillow shape provide small and bulk fuel storage on your boats, motorcycles, gas station, car, military application and business location, Of course, you can use our tank anywhere.
Material: High Strength TPU
Thickness: 0.7mm-1.5mm
Capacity: 100L-500,000L
Color: army green, white, blue, black, dark green, etc.Components: 1 inlet, 1 outlet, 1 air vent. (To fulfill customer's the requirement on usage, the size of the inlet and outlet is optional, from 1''-4'', and have different kinds of inlet/outlet valve for choice)
Groundsheet: Optional
Lifespan: 6-8 years
Temperature resistant: -30~+70℃
Warranty: 1 year
Packing: Carton box, wooden tray, wooden box.
Applications include, but not limited to:
SpaceBladder has 10 years manufacturing experiences, adapting advanced double layer welding technology which makes our water tank more durable and with a long lifespan. The possible usage like below:
Agriculture use, irrigation, rainwater collection etc.
Daily life use, Water storage, Remote Storage
Industrial use, Mining, Drilling, Grey water, Water Treatment Plants and Sewage storage,
Public works and Civilian rescue organizations, Humanitarian Aid
Fish hatcheries, Tank Farms
Fire-fighting, Forestry Service, Military Operations
For cutters, yachts car holder etc.
Fuel Storage
Conservator and Compensatory Transformer Oil Fuel Bladders for Transformer Services more application please according to the specific usage and contact us, our sales and engineer would like to provide best water solution for every customer.
Product Show
Transformer Oil Fuel Bladders Advantages
Standard Bladder Sizes
Folds up, for easy compact storage
High tensile and tear strength
Resistant to hot and cold temperatures
Resistant to microbial attack
High-Frequency Welding, Hot Wind Welding
No Glue or residue
Taps and fittings included
Puncture and Abrasion resistant
Space Bladder Accessories
To meet our customer's requirements on usage, we have different kinds of the inlet&outlet valve for your choice.
Air vent: In order to release air and safe the bladder are filled with its capacity fully, each tank equips air pressure valve.
Kindly feel free to contact us.