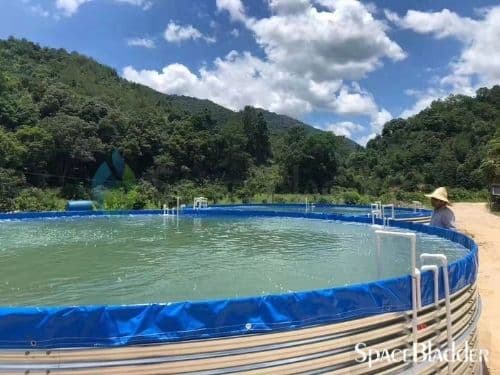 Collapsible PVC Fish Pond Indoor Outdoor Aquaculture Fish Tank
Space galvanized sheet aquaculture fish tank is composed of high-quality 1.0mm galvanized sheet + wear-resistant PVC coated banner. As we all know, there are oxygen molecules in water, which combine with metal elements to easily generate oxides, thereby corroding foreign objects.
Our galvanized sheet aquaculture fish tank solves this problem very well. The zinc coating of the galvanized sheet is about 80g/m2, which effectively prevents corrosion on the surface of the steel sheet, and prolonging the service life. Moreover, It is sturdy and beautiful, which can realize high-density breeding and improve breeding efficiency. Whether it is water storage or aquaculture, it is the best choice.
Anticorrosive Galvanized Sheet
– Use 1mm galvanized sheet support; the wave-shaped layout has good water pressure resistance, is not easy to deform, and can be cultured at high water levels;
– Splicing assembly; stainless steel screws are installed and fixed, which is convenient for installation and disassembly.
Heavy-duty PVC Coated Banner
– High-quality PVC coated fabric; soft and foldable, good weather resistance, not easy to aging.
– Reinforced edging + galvanized buttonhole; easy to fix, firm, and safe.
Custom Drain Hole
The position and size of the drain hole are customized.
– The default location is at the bottom center.
– Default size is 4inch.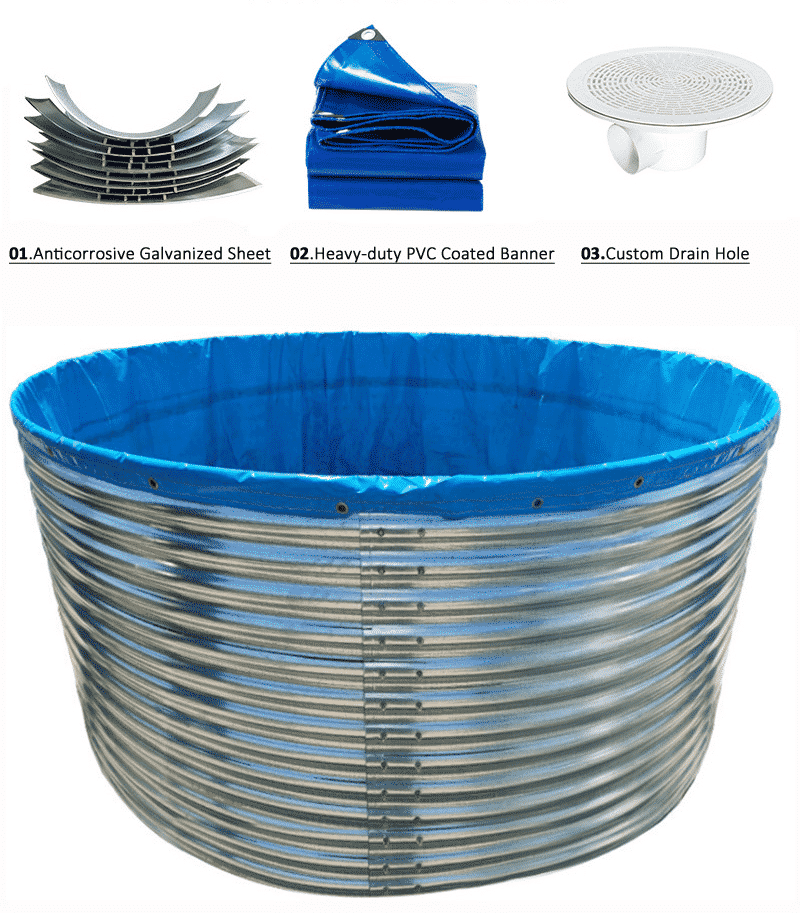 | | | | | |
| --- | --- | --- | --- | --- |
| Model | Capacity(Liters) | Diameter(m) | Height(m) | Galvanized Sheet Area(m2) |
| SBF-GS3 | ~8500 | 3 | 1.2 | ~7 |
| SBF-GS4 | ~15,000 | 4 | 1.2 | ~13 |
| SBF-GS5 | ~24,000 | 5 | 1.2 | ~20 |
| SBF-GS6 | ~34,000 | 6 | 1.2 | ~28 |
| SBF-GS7 | ~46,000 | 7 | 1.2 | ~38 |
| SBF-GS8 | ~60,000 | 8 | 1.2 | ~50 |
| SBF-GS9 | ~76,000 | 9 | 1.2 | ~64 |
| SBF-GS10 | ~94,000 | 10 | 1.2 | ~79 |
| SBF-GS12 | ~136,000 | 12 | 1.2 | ~113 |
| SBF-GS13 | ~159,000 | 13 | 1.2 | ~133 |
| SBF-GS14 | ~185,000 | 14 | 1.2 | ~154 |
| SBF-GS15 | ~212,000 | 15 | 1.2 | ~177 |
| SBF-GS20 | ~377,000 | 20 | 1.2 | ~377 |
*The above is the general size, other customized sizes please contact us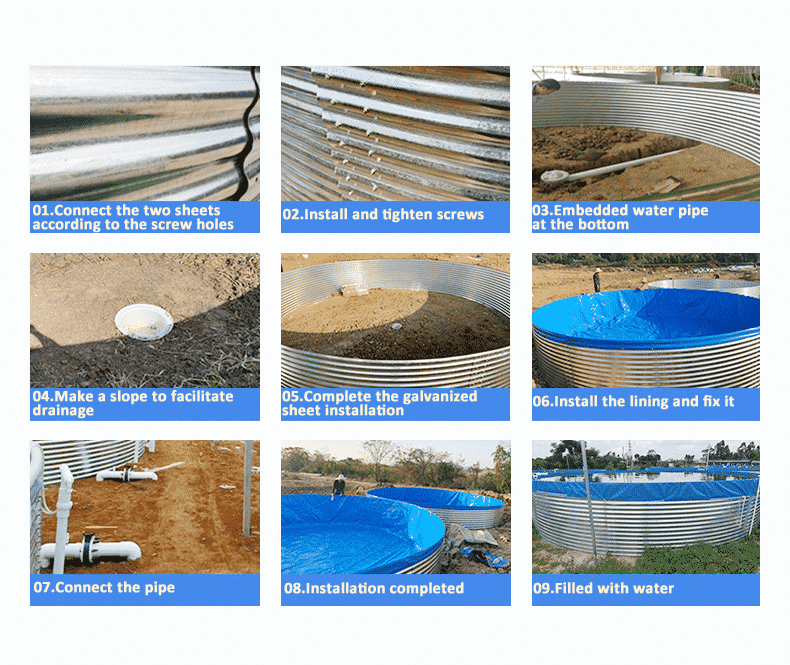 1. Connet the two sheets according to the screw holes
2. Install and tighten screws
3. Embedded water pipe at the bottom
4. Make a slope to facilitate drainage
5. Complete the glaavznized sheet installation
6. install the lining and fix it
7. Connect the pipe
8. Installation completed
9. Filled with water