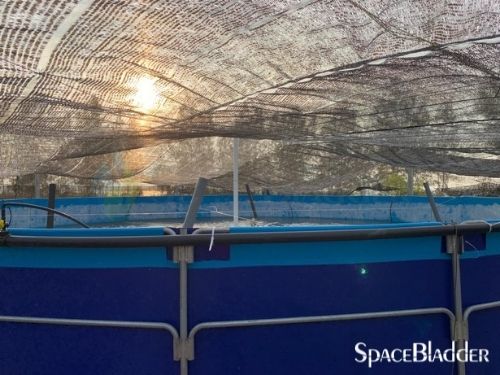 120000L PVC Tarpaulin Round Large Fish Farming Tanks
120000L PVC Tarpaulin Round Large Fish Farming Tanks Description
Spacebladder 120000L PVC Tarpaulin Folding Large Fish Farming Tanks is one of the best-selling models of our fish farming products. Its normal size is 10 meters in diameter and 1.5 meters in height. It is composed of a foldable PVC liner and a detachable galvanized steel tube. The gross weight is about 450 kg, and packed in wooden box size which the packing volume is about is 1.25cbm, very convenient for transportation.
For large-scale breeding projects, it not only saves civil construction costs but is also very conducive to management and reduces breeding risks. It is now the first choice for fish farming in various countries.
1. Detachable Galvanized Steel Tube.
Double-sided galvanized steel tube frame support, moisture-proof, anti-corrosion, anti-rust, firmer, and longer service life than ordinary pipes.
2. Foldable eco-friendly PVC woven fabric
– High Safety.SGS approved 100% suitable for fish farming material.
– More than 8 years lifespan. Thick PVC woven fabric consisting of 2 layers of PVC material + mesh cloth. The polymer PVC material is wear-resistant, pressure-resistant, and light-resistant. With the addition of mesh cloth, it has a greater bearing capacity and stronger toughness, which is three times the performance of traditional materials.
3. Multi-size selection of drainage accessories
There are many options for the size of the drain, 1inch, 2inch, 2.5inch, 3inch, 4inch, etc. Please set according to the size of the connected drain pipe.
More Specification
The main capacity of our galvanized steel tube frame support fish farming tanks is 10,000L to 500,000L. Here are some of our regular round fish tank sizes. Any other special requirements please feel free to contact us.
Capacity

Dimension
Vertical Pipe

Number

Horizontal Pipe

Number

PVC Fabric Liner

Thickness

8,500L
Dia3*1.2m
7
21
1.0mm
10,000L
Dia3*1.5m
11,000L
Dia3.4*1.2m
8
24
14,000L
Dia3.4*1.5m
17,500L
Dia4.3*1.2m
10
30
22,000L
Dia4.3*1.5m
28,500L
Dia5.5*1.2m
13
39
35,600L
Dia5.5*1.5m
34,000L
Dia6*1.2m
14
42
42,000L
Dia6*1.5m
60,000L
Dia8*1.2m
19
57
1.2mm
75,000L
Dia8*1.5m
94,000L
Dia10*1.2m
23
69
118,000L
Dia10*1.5m
241,000L
Dia16*1.2m
36
144
300,000L
Dia16*1.5m